Cheep-cheep
Level: 29


Posts: 152/183
EXP: 137469
Next: 10416

Since: 08-15-10
From: New Mexico, USA

Last post: 76 days
Last view: 12 days
I'm working on making an Expansion + Improvement hack of 'Megaman - The Wily Wars' to include all the Classic Megaman Games from 1 - 10, plus MM&B, instead of just 1 - 3.

~ I'm giving this in it's own thread now as I'm going to start seriously working on it a lot more. ~

This can also serve as a base game for anyone desiring a much more polished Wily Wars game to hack (no credits to me will be necessary at all, and certainly not required).
Whenever it is that I have a significant release ready (not going to be for quite some time), I will make a Thread for it in the 'Rom Hacking Related Releases' section of the Board.

So far I've decided to call the game 'Megaman the Wily Wars - Mega Edition'.

It's in pretty early stages, but here's some more of the plan :


Hopefully I won't run out of data and have to split the game into two parts, as the Genesis allows for a Game to be up to 4MB max, but there is 4MB reserved for the Sega CD, and another 4MB reserved for the 32X as well, and it might be possible to use them with just the Genesis by itself; I need to research this more.
I also eventually plan to make a 32X port of it.

As well I will make multiple characters playable, such as Protoman (so far I have reserved a Byte in RAM for a Character ID and when set to 0x01 it loads his Gfx and Palette instead of Megaman's), Bass, and also Roll (and for fun X and Zero and some Enemy characters all as bonus unlockables (or extra content), or maybe rather included as part of a separate and alternate version of the game, for anyone that wants to experience a romp-through of the stages with such characters~ So done in a way that's non-intrusive to the classic games).

Multiplayer :
- Co-Op: I will make a (non-split screen, and maybe optionally a split screen mode) co-op Multiplayer mode (this will mostly be for the 32X version, due to Palette limitations on the Genesis, but I should be able to at least do 2 Player on the Genesis using a trick to Draw one Frame, then Load up to 12 Colors and Draw in the same Frame).
- Battle and Counter-Op: I'll also make some kind of Battle Arena multiplayer mode (so you can fight each other, yeay!!~), and as well a mode where other players can control enemies that come on-screen in a Level.


This game will also undergo much bug fixing that the original Wily Wars game has, and game mechanic changes to improve the playability / enjoyment, and improvements to the Game Engine to fix further issues and also to add features (the Collision detection system for one seems to apparently be the cause of the various points of major lag existing in the game, and also Screen Transitions to the Left... only sort of work).

..
I've also enhanced Megaman's Gfx (I still have some Frames to implement for him, but mostly all there, and others to refine the body of some though), and Protoman's (I didn't use the shitty recolored NES version that's in Wily Wars, I actually made my own).
Protoman has several Frames that still need to be implemented (and will show up garbled at the moment, but most the ones you normally see are in already... but w/e, I'm starting to get into particular details more than necessary lol).

I haven't had much time to spend on this project in a long while, so it's taking me a considerable amount of time to get much done (lots of RL stuff to do, and very much on-going... but everything's going really well), but it will be done someday (and I'm starting to do more work on it and my Game Editor for Wily Wars)~ I will never cancel it.


Here's some Graphical changes I've made so far :
----------------------------------------------------------------------------------------
- Protoman's 1up Helmet needs a little refining still, but good enough for now.
- The Boss Door is only sized for MM5 at the moment. All animations are created (and in my Wily Wars hack), I just got lazy and showed the first one.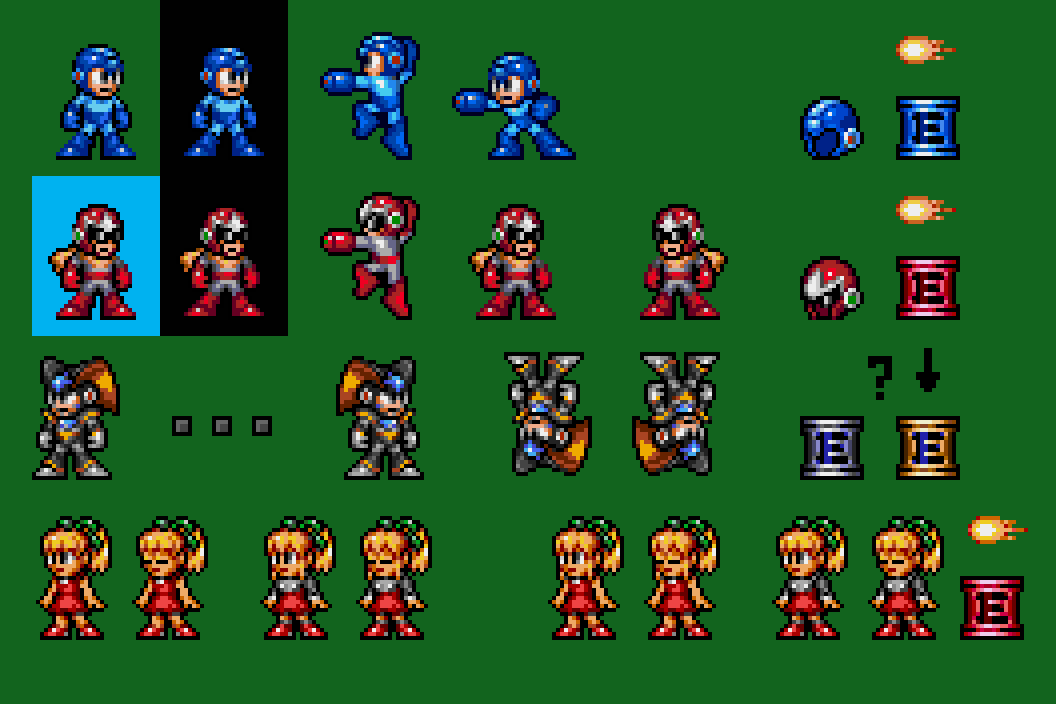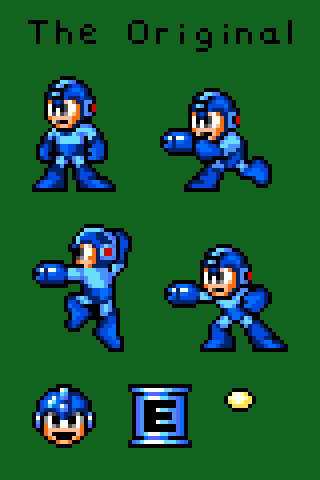 Edit: Hmm, there is something fundamentally wrong with Protoman's head (visor and face mainly). I'm going to work on redoing him... though he's quite challenging with all the details and diagonal angles required (it's likely to take me quite a while).
Edit 2: I changed his head now (the previous version is still shown in one of the images below), but there's something wrong with it... it's been rough trying to get all his details to work right with that size head.

- Protoman's Cape needs to be created still for when he's on ladders, as you can see (and yes I said Cape, not Scarf... by default I'll make him have the short cape version, but I'll allow costume choices for the different Cape types and Scarf, plus a costume choice for Roll to use Classic or New Style, and also a more Armored style so she looks more like a fighting Robot).
I'll later animate it when he's sliding too, and have it move occasionally when standing as though as breeze blows here and there. I think I'll also have his visor shine occasionally (the same as when Megaman blinks).

I have not done his Shield yet, not even drawn it (and it will be equippable as an item that he starts with, with an option to have it equipped or not by default when starting a level).


.

(Protoman's jumping gfx isn't finished, his arm won't be up in the air as though he's Mario lol)


- In this enhancement of Wily Tower's Weapon Menu (mock-up image as of right now, but not breaking any Genesis Palette limitations), I slapped in Fire's Icon for Plasma temporarily, since it would be similar enough looking and Plasma normally doesn't have its own. I also haven't modified the Text yet. I think I want to make the border that's around Plasma as the Energy Bar Border for what power is currently selected.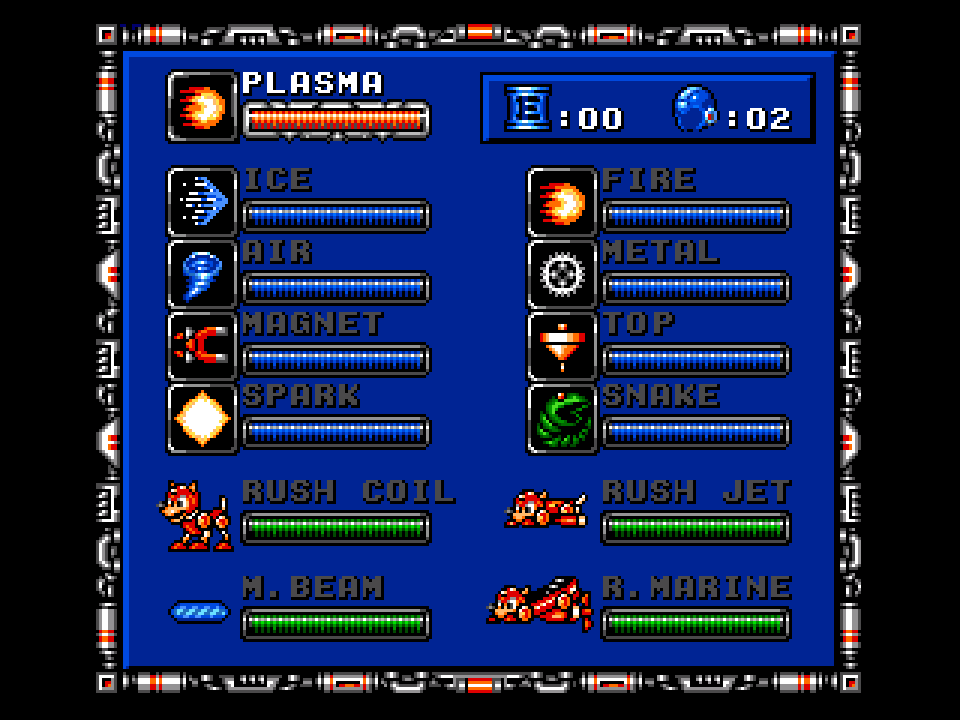 - I made a mock-up "in game" example of Wind Man's Level, but it's not totally finished. Also in this image, the Health and Weapon Energy revivers feel slightly large to me, so I'll probably shrink them down a little at some point.
The Clouds are a work in progress (for now I just recolored the ones from the NES game).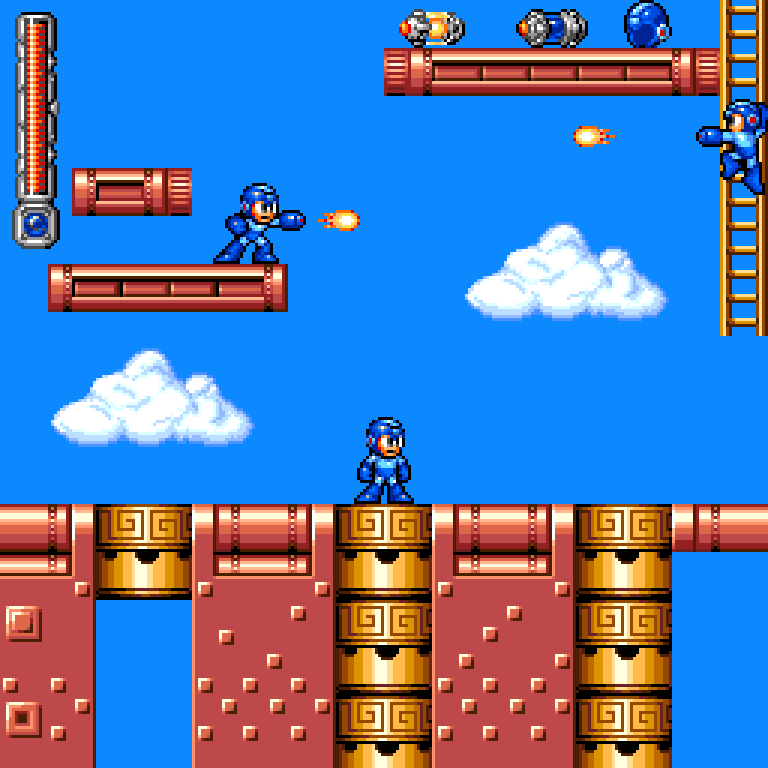 - The Palette in the Wind Man and Grenade Man 'Block Set' images (mainly Grenade Man's, as it's drawn for 32X Palettes at the moment) need reducing some, but not in any way that'll harm them. These Block Sets are incomplete currently.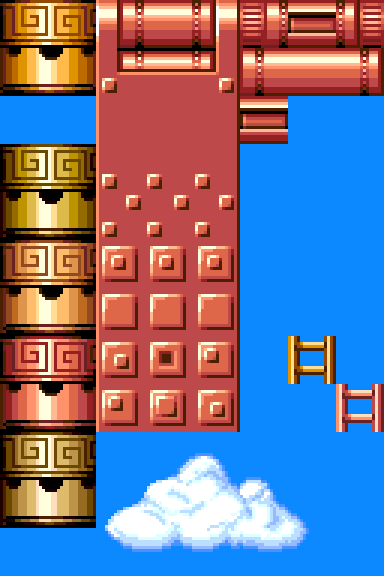 .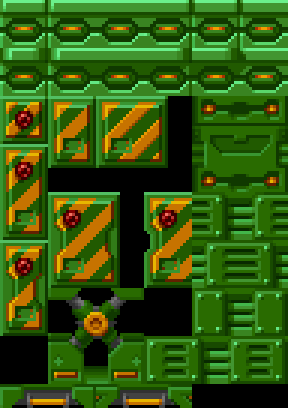 ------

Edit: Megaman X basic attempt #2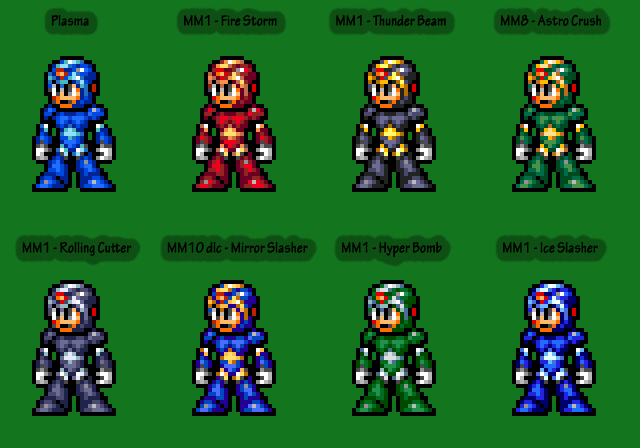 The arms are a bit lanky / long at the moment (and I'm thinking they need to be a tiny bit wider in some way), I've just been lazy after redoing the head and other areas lol. I think I need to change his stance slightly too.

Hmm, and well I wanted to reflect on the fact that he's taller than Megaman, but this looks like it might be too large.. so I think I'll need to just redo this lol. Too bad I was enjoying the head portion of him lol.