@MathOnNapkins: That looks AND sounds sweet. I'm going to have to check it out later. I'm no musician, but I'd love to learn how to insert the stuff into ROMs, and a program like that would probably help me get closer to a comfort zone in music hacking.
@RetroRain: Yup, that definitely looks better. I suggest making the water blue, though, unless it's supposed to be acidic. :o
@SePH: Looking snazzy, though I think the life bar should keep the shades of red from the original (or at least another warm color), as at least I myself associate red with life...teal not so much. Is your hack completely futuristic or will it involve any sort of time travel?
Anyways~
This is what I've been up to for the last few days: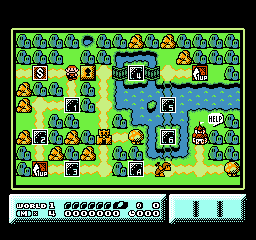 Map screen graphics are like...85% done, and as far as my demo release will be concerned, they're more like 98% complete.
Oh, and I know you can't see it here, but the bushes are animated differently than their original counterparts.
This is the last screenie I'm posting before demo release day, which'll be sometime within the next month (I hope!).
Now...I really need some sleep. z_z;
____________________
Back from the beyond.