Posted by Grey Mario

---

Other than the black pixel in the upper right corner...

BEST CASTLE BLOCKS EVER.

Also the windows rock.

---
Hey, I put the screws back on the damned colored platforms! WHAT DO YOU WANT FROM ME!? >:o
...actually, that pixel you're talking about was a mistake. I'm a little surprised I didn't catch it earlier... I'll be fixing that, so thank you for pointing it out.
Thank you. I'm glad you like 'em; both the blocks and the windows. :3 The windows actually had a different and more gothic look to them before, but after I found out that the middle block of the TSA repeats when you stretch the windows vertically, I had to alter it to what you see there. Luckily, they still look presentable.
Posted by zbyte

---

Mineyl... it would be really cool to see you do some graphics for me.


That's so awesome. Oh gosh... all those pixels look spaz! You'll have to work for Nintendo. They'll give you a salary so high...

---
Well, I can try. I'll have to get back to you on that, though. Art isn't really something that a person just does, you know? It has to come to ya'. The only reason I'm able to churn this stuff out at this rate is because I've had a mental image of what I've wanted to do with many of the graphics for a very long time locked in my head, so it's all flowing forth at once. If I do graphics for you, it'll probably be a few months after I've finished my own (not necessarily the whole hack; just the graphics).
As for working for Nintendo... I'd love nothing more than a complete revival of 2-D Mario titles that aren't rendered in 3-D graphics, but game companies seem to have this thing about using exclusively high-tech crap for their flagship series these days. *rolls eyes* I'd go on a rant about how 2-D > 3-D right now, but I'll spare you that.
The palette in your screenies looks very...freaky, but I like it anyway.
It's nice to see pipes in SMB3 that aren't green.
EDIT: Another EDIT update. xD
Fixed castle stuff:
Finally finally FINALLY done underground set (had to break down and use the TSA editor to get this one to look right):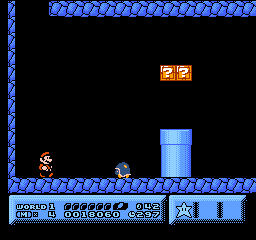 I think this might be my last screenshotty post for a while. I feel like I'm hogging the thread and ruining surprises.
What do you think? Should I keep posting these? xD
____________________
Back from the beyond.