Posted by "Grey Mario"

---

The bushes are excellent, but I just can't stand the colored blocks not having screws. It's like, part of the SMB3 atmosphere, you know?

---
Thanks.
Yeah, I know how you feel about the blocks. I'm a bit iffy on them myself. I may change them to something else...I doubt I'll put the screws back on them, though. Sorry to disappoint. :< I'll see what I can do, though.
Posted by "zbyte"

---

@Mineyl: Oh hot ham... that's awesome. Your graphics and everybody's graphics are much better that what I can do. The hills, clouds, blocks, colored platforms... all look so awesome. Those colored platforms look 350% better than the original!

---
Aww, thanks. You think they look that much better, huh? Hmm... Right now, those and the clouds are the only graphics I'm considering changing, but if more people like the blocks...
Also, drawing your own graphics isn't the only way to spice up your hack's looks. You could always rip from other games. Personally, I'd like to see what an NES Mario with something odd like Megaman tiles in it would look like. xD On that note, however, doing the actual graphical modification can be grueling at times.
; Luckily, this isn't my first venture into that field, not to mention it's simply a LOT easier with 2bpp NES graphics.
Posted by "Quick Curly'

---

Mineyl, those graphics are awesome. Your SMB3 hack is one that I am definitely looking forward to playing once you've completed it. Best of luck!

---
Thank you~ I'm actually a little surprised they turned out so well, given I've only spent a few hours on them. I think I've finally gotten the hang of YY-CHR.
I might release a two-world demo to satiate your curiosity. There are only five more levels left in world 2, and 2-4 was already halfway implemented when I made the Youtube video exhibition. :o
================
EDIT: Couldn't make another post, so putting it here instead:
I just made slightly more progress on my graphics and thought I'd chime in. :b
Work-in-progress title screen: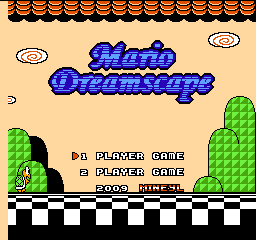 Status bar got a revamp: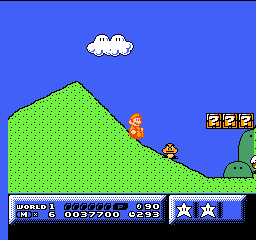 The colored platforms have been re-screwed and the clouds are now less malformed (I removed the eyes because that feature was always slightly disturbing to me):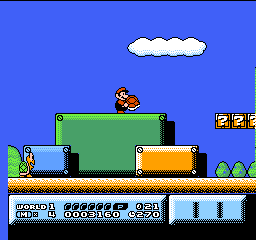 ____________________
Back from the beyond.