Goomba
Level: 11

Posts: 20/21
EXP: 5681
Next: 304

Since: 08-05-09

Last post: 2529 days
Last view: 2229 days
I agree with some of the sentiments here that it has been taking a long time for progress to be made. Unfortunately, the editor is not as high on my priority list as I would like it to be. The good news is so far my semester is looking to be less intense than expected, so I'm hoping to be able to release a beta version sometime in the next few months.

I know I said the same thing over the summer, and that clearly didn't happen. But right now rather than building the editor up to where I would like it to be for a public release, I am going through my list and cutting certain features and determining which are vital for a working test product.

As for where it all currently sits, All the basic functionality is there. Roy lets you add, remove and change sprites and objects, regardless of sizes. It just might not be as easy as some would like. It also supports autoscroll and block path editing, and support for multiple areas, including music, graphics, and backgrounds of each. It also allows the editing of names, icons and numbers for levels. So far it cannot create new levels, only editing existing ones.

The biggest area where it is coming up short is with the objects. There are several banks for each graphic set, and a good majority of these objects are unknown. If I do manage to release a version this year, my hope would be for users to test out the objects and report their findings for all.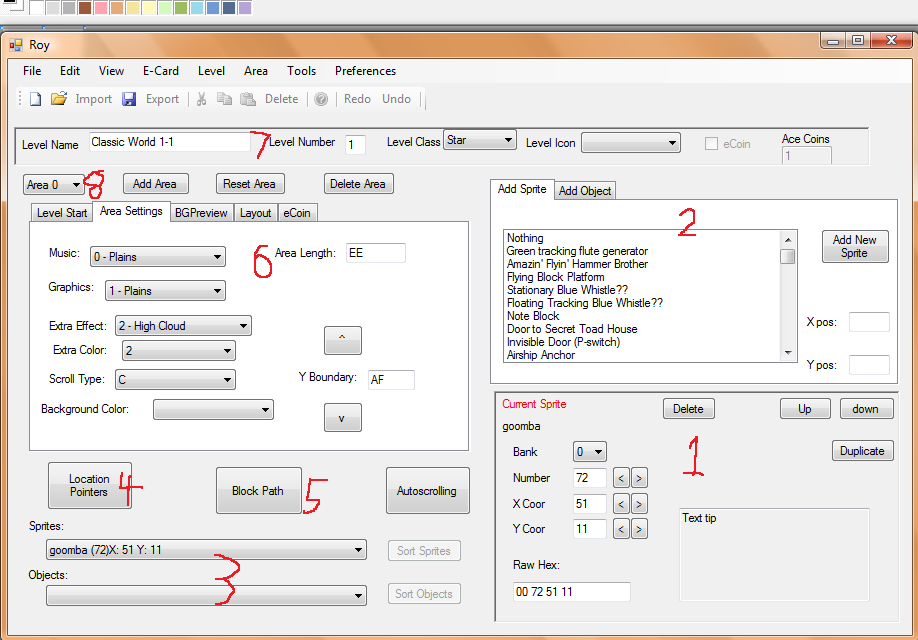 This is the current look of Roy. Gone is the visual display for now (too many headaches), and now is a probably too confusing layout of lists and buttons.
Descriptions of each red numbered area are below:
1: The current item editor. For both objects and sprites, this is where you change the location and values for the selected item. You can also remove or clone the item. The text tip would ideally explain the extra bits for such objects and sprites, but that hasn't been done yet.

2:Addition menu. You can select a sprite or object from the appropriate banks and add it into the level.

3:Existing item lists. This is where you select the sprite or object you want to edit from the list of all items in the area. Split between objects and sprites. The sort buttons aren't implemented yet but would be used for arranging the list for ideal placement before saving.

4: Location Pointer editor. Used for changing the pointers between areas. This includes the pipes, doors, etc that transition you from area to area.

5: Block Path/Autoscroll editors. Block paths are working, autoscroll, not so much. They let you create/delete/edit the paths for the current area you are editing.

6: The multipurpose window. Shown is the Area settings tab, but also allows control of level start conditions, time limit, background. The eCoin tab so far displays the data values for the eCoin graphics if present. Eventually this would become an eCoin editor to craw your own eCoin for your level. The layout tab was designed to be a text display of the level area (like an ascii image but color coded). This has not been started yet, and would require the most work and as such would not be included in any releases in the near future.

7:Level Settings Menu. Controls details of the level aside from the actual level itself, such as name, number, icon, and shows Ace and eCoins.

8:Area buttons. Allows you to switch between areas and delete or add as appropriate (max of 4 areas per level).

Then above are mostly empty or useless tools and menus which will be filled in later.

So, what features do all of you, the potential users, think would be necessary for a usable release? I'm not sure how much I'll be able to complete over the next few months, but a somewhat working editor available is better than a non-existent one or one I keep to myself.


I'm intrigued by Kiiro's project as well, and hope to see the full power of Solar Core once it is ready. I'm sure it will put what I'm working on to shame. And good luck H4ck3r with your editor, is it for e-levels or the in-game SMA4 levels?