Ok, why did all my posts and new threads from the past seven days disappear along with my brother's new account? I know I made posts yesterday and I watched my brother register here. Could this be some crazy side effect from the staff drama? (I doubt it)
Does anyone remember seeing the posts I made yesterday? I made a thread with the Spatula City clip from UHF in Spatula and posted this pic in the Own3d thread:
My brother, whose user name was "The Protagonist" posted this one as well: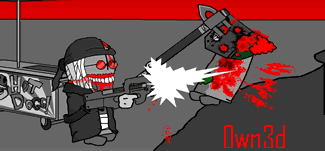 Does anyone remember these posts or have I gone totally crazy?
____________________